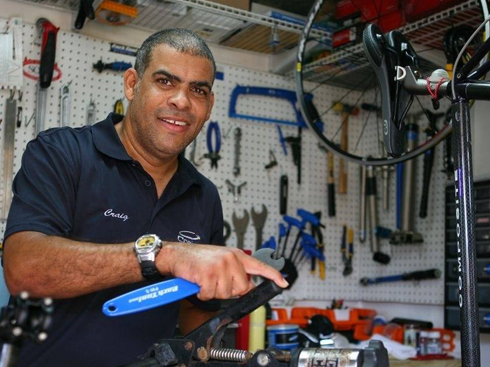 About Craig's Cycles
Craig's Cycles is the vision and passion of one man, Craig Merren. Second only to the love for his native land, the Cayman Islands, is Craig's love for bicycling. He has lived and breathed cycling since a young age and is a three-time Olympian, representing the Cayman Islands in the 1984, 1988, and 1992 Olympic games. He has also competed in various other international and regional cycling games on behalf of the Cayman Islands. Craig is the first cyclist to bring home the country's first medals for cycling (gold and silver) in the 1985 CARIFTA games, and among other accolades, was named a Pioneer in Sports on Cayman's National Hero's Day on January 22, 2018.
Craig cultivated his experience as an accomplished athlete into a lifelong passion for all things cycling, and since leaving the competitive arena, dreamed of owning his own bicycling business one day. Craig's Cycles is the culmination of that dream. It was realized through Craig's persistence, hard work, well-known charming personality and above all, hard-to-match expert knowledge of bicycle mechanics and industry trends, as well as an undying cycling spirit.
Craig's mission is keenly focused on personal service to ensure all riders, whether for leisure, recreation, competition or transportation, have access to the best bicycles, parts and accessories to make riding the most enjoyable and safe experience. In addition to bicycle sales, Craig offers parts/components, accessories and cost efficient, convenient repair/maintenance service, including bicycle assembly. This convenience is underpinned by Craig's ability to serve customers with mobile pick-up and delivery.
Via Craig's Cycles Facebook page and website, customers can chat with Craig to schedule repair service, find out about new stock, listen to useful tips, or simply to get his take on the latest bicycle trends and cycling in the Cayman Islands.