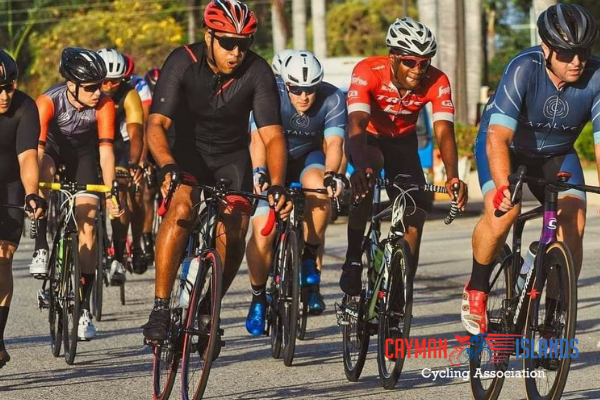 Cycling in the Cayman Islands
The Cayman Islands Cycling Association, known as CI Cycling, is committed to promoting the sport of cycling by fostering a spirit that, through social and competitive cycling events, enables all our riders to achieve their full potential. That may be just cycling for fitness and leisure or to compete in international events.
CI Cycling supports cycling in the Cayman Islands community by encouraging responsible road riding etiquette, safety and traffic awareness. It also supports cycling as an integral part of a healthy and active lifestyle. Whether in preparation for athletic competition, general fitness, or every-day transportation, cycling helps build discipline, teamwork, physical fitness, and dedication.
Follow the CI Cycling Facebook page or CI Cycling website for all current and upcoming cycling events.
History
The Cayman Islands Cycling Association was founded in June 1982 by Mr. Bobby Nunes, a very well-respected and long-time cycling coach, and Mr. William "Bill" McTaggart, the owner of Uncle Bill's, a local home improvement store on Mary Street, in George Town, Grand Cayman.
At the time, Uncle Bill's was also where local cycling enthusiasts went for the latest bicycles, accessories, and repairs. In those days, it was the only dealer for popular brands like Huffy, AMF, Vista & Royal Infield, so it was no surprise that coaches like Mr. Nunes and cyclists like Craig Merren were regulars. In fact, Craig worked there as a bicycle mechanic after school.
During one visit when Mr. Nunes went to buy paint, he ran into Mr. McTaggart, Uncle Bill, and their chance meeting turned into the decision to form the Cayman Islands Cycling Association. With great fondness, many old school cyclists like to say that the cycling association began with the purchase of a can of paint.
At its peak in the late mid to late 1980's, the CI Cycling Association organized races, training programs, youth development programs and sent athletes to compete internationally in well-recognized events like the Olympics, Commonwealth Games, Pan American Games, Central American and Caribbean Games (CAC), and the CARIFTA Games.
During various CARIFTA games, Caymanian cyclists really excelled. After many track and road events, our athletes brought home the island's first gold and silver medals. This experience produced one of our most committed and talented riders, Mr. Perri Merren who became a semi-pro cyclist and rode with teams in Spain, Europe, and the USA. He brought pride to the Cayman Islands in the 1988 Seoul Olympics by being the second Caribbean cyclist to complete an Olympic road race and crossed the line in 16th place.