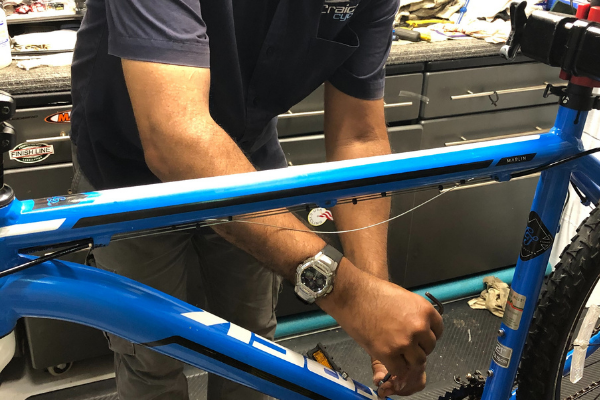 Bicycle Assembly and Packing
Craig's assembly and packing services provide customers peace of mind that new bicycles are properly assembled, and that bikes requiring export are safely packed to minimize damage.
BICYCLE ASSEMBLY - $60+
This professional bicycle assembly service is available to customers that import their own bicycle. A tune-up and installation of standard accessories are included with assembly. Upon request, Craig will provide bike sizing and saddle adjustment to ensure the best fit and safest ride. 
Assembly cost depends on the size and type of bicycle. For example, e-bikes and hydraulic brakes assembly will incur a higher cost. Standard accessories include upgraded pedals, saddles, bottle cages. 
Please note, bicycles purchased from Craig's Cycles will not incur a separate assembly cost. That only applies to bicycles customers purchased and imported independently.
BICYCLE PACKING - $60+
Air travel with bicycles can be a challenge. However, it is unavoidable for those looking to attend overseas cycling events and competitions, or even just for moving off-island. Bicycles need to be properly packed in order to reduce the chance of damage during travel. 
Craig will professionally pack bicycles if the customer provides an appropriate travel case. With enough advance notice, Craig can advise on the right case and recommend purchase options. 
Bicycle packing cost depends on the size and type of bicycle. For example, e-bikes and cargo bikes will incur a higher cost. Bicycles will be packed according to industry standards and only with approved cases. However, Craig cannot guarantee damage during travel or flight.