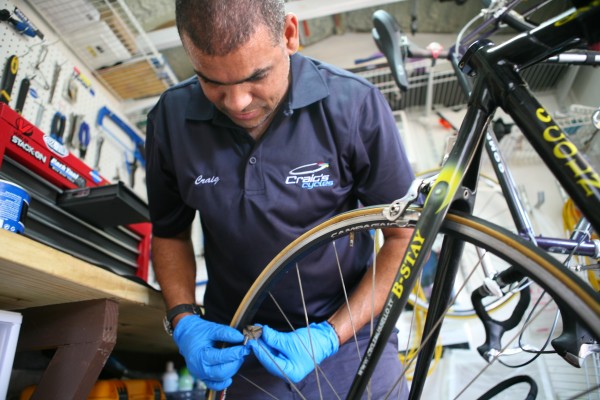 Bicycle Maintenance Plans
Just like motor vehicles, bicycles require regular tune-ups and proactive maintenance to minimize long-term costs. This is especially true for avid cyclists, high-performance bicycles, those who use bicycles for daily transport, and corporate bicycle fleets. The affects of the hot, salty Cayman environment degrade bicycle parts even faster, so scheduling regular maintenance makes repairs more cost efficient in the long term.
Craig recommends an annual or semi-annual standard tune-up for most bicycles, and depending on cycling habits/expected wear and tear, a monthly or quarterly maintenance plan agreement is advised. Corporate, hotel, and real estate properties with bicycle fleets generally require monthly service. 
Craig will provide a free initial consultation to review the bicycle(s) and provide a plan/cost estimate.
Please scroll down to see more details on Craig's Cycles' maintenance plans.
Standard Tune-up - CI$49+
A tune-up will keep most bicycles in top shape, enhance safety, and minimize long-term damage, like rust and corrosion. A standard tune-up includes the labor to change tires, tubes, cable, chains, and brake pads purchased from Craig's Cycles. Also includes basic maintenance outlined below:
Inspect frame, fork & components
Adjust bottom bracket
Tighten crank bolts
Tighten chainring bolts
Inspect pedals for wear & tighten
Adjust headset & check stem bolts
Adjust hub bearings front & rear
True & tension wheels
Lube cables & housing
Align derailleur hanger
Adjust brakes
Adjust front derailleur
Adjust rear derailleur
Tighten & final check
Bike wipe down
Fleet Service Plan - Custom
Based on an agreement stipulating frequency of service, Craig's Cycles can manage regular, preventative maintenance for corporate or property fleets. Hotels, condo properties, and retail or commercial centers benefit the most from a bicycle fleet service plan because it minimizes unexpected large repairs, and keeps overall expenses cost efficient in the long term.
Fleet plan details are specific to each fleet, including the number and types of bicycles, property and frequency of use. Contact Craig to schedule a consultation and receive a cost estimate. As with other repair services, fleet plans include service labor and parts/accessories purchased from Craig's Cycles.
What's Not Covered
ANY parts, components, accessories, or shop supplies (lubricants, grease, cleaning products, etc). Those carry an additional cost which Craig will advise customers in advance of completing service.
Labor charge for replacement of parts, other than those itemized above.
Installation of accessories.
Repair of damage from accidents or crashes.
Repair of damage from abuse, neglect, or lack of maintenance.
Rebuilding wheels.
Any internal tech to suspension forks or rear shocks, other than routine lubrication.
Additional labor for service specific to e-bikes and hydraulic brake components.
Other Terms of Service
Please visit our Terms and Conditions page for more detail.