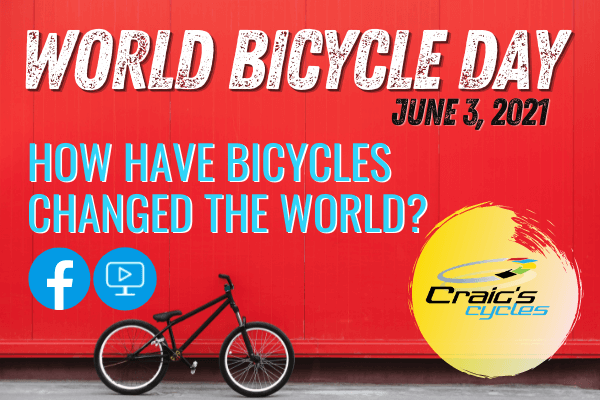 Jun 03, 2021
Celebrating World Bicycle Day!
Happy World Bicycle Day, from Craig's Cycles! This June 3, 2021, I thought a lot about how much bicycles have had such a big impact around the world.
Most people I know have enjoyed riding a bicycle at least once in their lifetime.  Bicycles seem to be everywhere around us, yet simultaneously invisible. However, for the last almost 150 years, bicycles have been a big part of human life and history. People from almost every country, culture, socioeconomic class, gender, and color ride bicycles. 
Bicycles give us the freedom to move, to escape, for transportation, to spend time with family, to build communities, help save the environment, and they even help us achieve greatness through competition. This World Bicycle Day, please take a moment to think about how the impact the bicycle has had on humanity. And don't forget, Craig's Cycles is here to help you make your impact. 
Watch my World Bicycle Day video on Craig's Cycles Facebook!