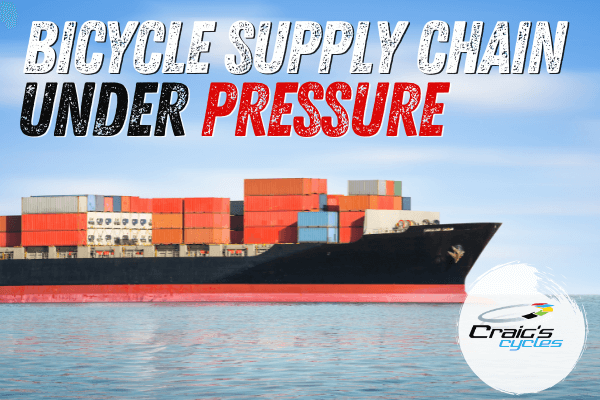 Jun 16, 2021
Bicycle Supply Chain Under Pressure
Before COVID-19 officially hit the US and Western markets, the effect of the virus was already significantly impacting the bicycle supply chain in the region on which the industry relies heavily for product, components, and supplies – Asia. 
However, lockdowns in China caused factories to close or operate under capacity. 
This interruption continues to have an impact on the industry worldwide – including the Cayman Islands. Addressing bicycle and component shortages is a challenge, and it looks like it may be a while before the manufacturing sector will regain traction, catch up on back orders, and keep pace with the new demand. (See timeline graph at the end.)
Until then, customers and business owners alike, will need to have patience because many products are indefinitely unavailable or are experiencing extended delays. 
In my last blog post, Bicycle Industry is Booming!, I highlighted how COVID sparked an increase in demand for bicycles as the result of people's greater desire for active, outdoor activities. This is a welcome boost in business, especially in the Cayman Islands, because we have not had access to the tourist market since the start of the pandemic.  
Meeting the increased demand from the lockdown bicycle boom has been a big challenge, and it apparently will continue to be for the foreseeable future. What does that mean for cycling in the Cayman Islands?
Outside of the COVID pandemic, managing shipping and supply chain issues is part of everyday life in Cayman. Even with improved global access to products via online shopping, island dwellers understand there's no such thing as cheap, overnight delivery with convenient access to all products when everything has to be imported.
So, we already know how important it is to be innovative and resourceful. I will keep Craig's Cycles customers informed of what's going on, and, in the meantime, through the relationships I've built with several bicycle industry business partners/dealers, I will diligently secure as many essential bicycle parts, components and supplies as possible. 
In case you didn't know, Craig's Cycles sells a variety of bicycles, e-bikes, tools, parts and accessories. Please check out the Bicycle & Parts Sales page for more info.
Bicycle Supply Chain Story Timeline
The timeline featured below is an informal collection of news articles about bicycle supply chain issues I've seen over the past year and half. All together, they seem to illustrate the overall industry challenge that continues. 
Sources: Cycling Industry News, Bicycle Retailer, Shimano