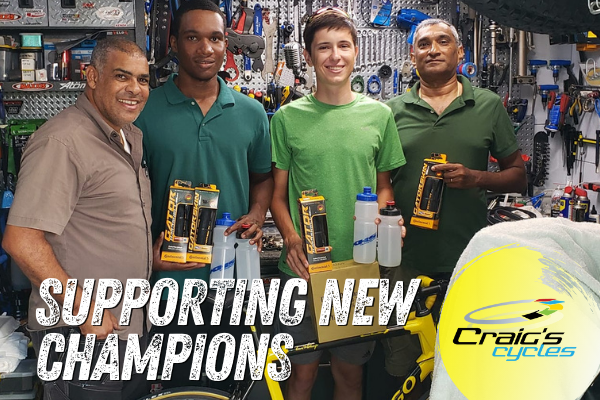 Jul 30, 2021
Craig's Cycles Sponsors Caymanian Cyclists in Caribbean Championships
Recently, on behalf of Craig's Cycles, I had the pleasure of donating cycling equipment to Caymanian national cyclists, Nathaniel Forbes and Victor Magalhaes for the upcoming Caribbean Cycling Championship and the Pan-American U23 Cycling Championship. 
These games are being held in Santo Domingo, Dominican Republic from 12th-15th August 2021. Both Nathan and Victor will be riding against the top Caribbean riders in the U23 (Under 23 yrs old) road race and Individual time trial. 
I was so delighted to help Victor and Nathaniel by providing Continental tires, tubes water bottles, and other equipment. Coach and manager, Mr. Ken Gokool was present to help sort out the items needed for their racing bicycles.
Giving these two talented Caymanian riders equipment really takes me back to when my brother Perri, and my sister Merilyn, along with my fellow cyclists Mitch, Brooks and Pascal, used to seek sponsors to help us with expenses for tires, tubes, wheels and other cycling gear.
I remember the late Mr. Beatman Ebanks (RIP) used to bring Perri and me bicycle parts from Miami, as well as Mr. William McTaggart from Uncle Bill's used to import for us a lot of this equipment. Because I know how fundamental it is for young cyclists to receive support to secure equipment to have a chance to excel, it means a lot to me to pay that forward and help young cyclists on the road to championships today. 
I don't forget where I come from and it makes me proud to be a part of their journey, just as many others did for Cayman cyclists over the last 39+years.